The Admin Console is useful for an administrator to view mailboxes, change passwords or make
other changes to a mail account. For a user to have access to the admin console, they need to be an
administrator on the domain in the Zimbra portal. To gain this access, contact TST support.
Open a web browser and enter the URL in the address bar:
https://zimbra.protectedservice.net:7071/zimbraAdmin/
Login with the administrators username and password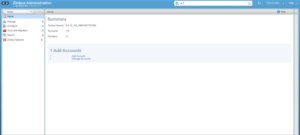 When the Admin Console opens, click 'Manage' on the left side menu to see all email accounts on
the domain
Right click on an email account to access the menu for the selected email account