Lower the costs of telephony and improve communications for your business with TST 3CX Cloud. Never be out of touch and never get frustrated at being unreachable – call from your deskphone, mobile, laptop.  The modern and easy to use phone system has never been more affordable or simpler to operate. This is the complete Business Cloud Phone System.  Find out how it can help your business…….
Low cost and feature rich
TST 3CX Cloud offers a number of smart, feature-rich solutions that keep your communications clear and put your business ahead of competitors.  The easy to use interface includes all the functionality available to all users.  It provides simple click and go options and all the features in one place.
Low call costs 1p per minute UK calls
Low call costs 3p per minute UK mobile
Never miss a call – Android and IOS apps
Web conferencing
Website live chat & talk
Call recording
Status, chat and click to call
Expert installation and local support
Wide range of deskphone support
Call centre features (wall board, call queues, callback, call & queue reporting & more…..)
Hot desking
Barge in/Listen/Whisper
…….and much more
Full featured user interface
At its simplest, 3CX provides telephony.  Plug the phone in and start making and receiving calls.  It also offers much more and it is easy to use.  Each user has access to a simple we interface that integrates all of the 3CX VoIP features.  The web interface can be used from anywhere that has an Internet connection – keep connected from the office, home or on the road.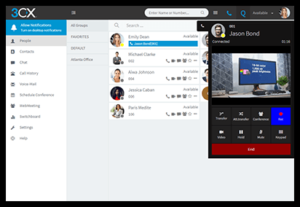 Make calls direct from your desktop PC or laptop.  Both Windows and Mac versions are available.
Voice or video conferencing available without the need for additional licenses or costs. Voice conference from your deskphone, conference phone, desktop PC or laptop.
Pre-upload presentations and PDF's for crisp and responsive delivery
Users control their own status and select where calls should be direct to – deskphone, mobile, computer
Personal and Company wide phone books make calls quick and easy
Web chat with colleagues
Hold web meetings with colleagues
Take control  – Manage your own business communications
By using the management web interface, you have full control of your call flows and communication.  Carry out management tasks via the easy to use web interface from any location.  No need to get in a call centre queue, request changes – you can do it yourself…..instantly!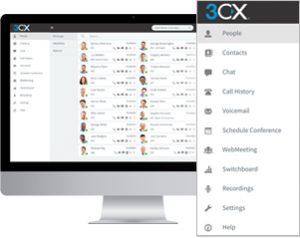 Listen to call recordings
Create call groups
Control where calls are directed to
Use a Digital Receptionist
Create and control call queues
Monitor who is online, how many calls have been answered/missed with advanced reporting
Set up hot desking
Go Mobile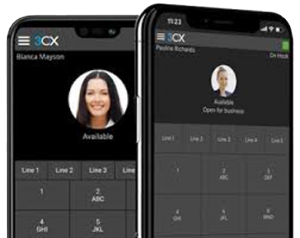 Go mobile with leading Android and IOS VoIP apps that take your office phone with you anywhere.  Answer calls to your office phone via your mobile and transfer to colleagues without asking them to call another number.  Call internally at no additional cost and make calls at landline rates slashing your call costs.
Call, chat or conference from your mobile.  All done easily through the smart, modern and intuitive app.  Install via the QR code received in your welcome email – just install the app and then scan the code – and you are ready to go.
Call centre features are also available including Digital Receptionist, call wall and call monitoring.  Detailed reports provide detailed monitoring information.
Contact us today for a no obligation chat this Business Cloud Phone System and your business needs and how TST 3CX Cloud can help your business (01244) 457870