On your computer desktop, click on the Task View icon and select the TST Advanced Backup icon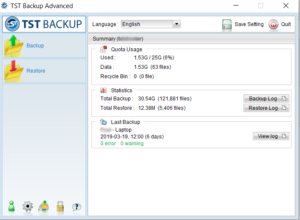 Alternatively, double click the desktop shortcut or select TST Advanced Backup from the programs list
The TST Backup Advanced control panel will open
The control panel displays a summary of your backup status including:
Quota Usage: Used – how much of your backup quota has been used including the allowance and amount used
Statistics: How many files are included in the backup and the restore process.  The backup log and restore log can be accessed using the buttons on the right.
Last backup: The status of the last backup carried out on the computer.  Including when the last backup was carried out, if there are any warnings or errors.  You can view the detailed log of the last backup by clicking the 'View log' button.
To close the Control Panel, click the 'Quit' option on the top right.