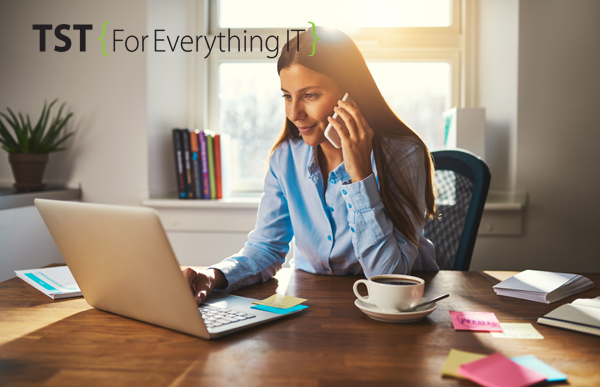 Working from home
Working from home for employees
This short guide provides some ideas and information to make working from home for employees easier, comfortable and more productive.
Comfort, sound & vision
When working from home, you need to make sure that your work station set up is comfortable to use.  You may have set up your equipment in a temporary location such as your dining room table.  Dining room chairs have not been designed to be sat on for six or seven hours in a day so you may wish to either swap the chair for something more comfortable or buy an office chair.
Your sitting position is very important if you are working for prolonged periods sitting at a desk.  Having your monitor sat below your eye line means that you are looking down whilst you are working.  After several hours sat in this position, will put a strain on your neck and back. A monitor mount will raise the monitor to your eye level and take away the pressure from your back and neck.  This will make your sitting position more comfortable and prevent long term damage caused by poor posture.
The monitor size and clarity will affect your vision.  Home monitors that you look at to do your online shopping and check emails don't tend to be of sufficient quality to look at for hours at a time.  Working on a laptop screen for prolonged periods of time will also cause eye strain.  Connect your laptop or home PC up to an IPS monitor that is at least 24″ to provide the best clarity and prevent strain on your eyes. Don't forget to take regular breaks and vary your activities to minimise the length of time that you stare at the screen.
Good quality headphones are important to help you hear without the distraction of background noise.  Bluetooth headphones will reduce the amount of cables that you have around your work space and can be used whilst you stand up and walk around.
Printing on a home inkjet printer is a different prospect than using a company laserjet.  An inkjet printer can print approximately 15 pages per minute compared to a laserjet which outputs about 50 pages per minutes.  A laser toner cartridge can print at least 2000 pages, compared to an inkjet that prints 200 pages.  The difference between a home printer and a corporate printer can have a big impact on your work flow and efficiency if you need to print out a lot of documents.
Security & Connectivity
If you are using your own home equipment for work in this period of isolation and lock down, check that you have adequate PC protection.  Free or home versions of antivirus software don't offer the right level of protection when handling corporate data. If you are connecting to your business network via VPN or mapped drives, you should have Business PC Protection. This includes antivirus, antimalware, firewall and Windows update monitoring.
Remote support for your PC at home has never been more crucial.  With the ban on IT technicians visiting your house, remote support is probably the only way that you can get help.  Without this level of support, you are relying on a family member in your house or working it out for yourself.
If you have set up a temporary work space, it may not be close to your broadband router.  The method of connecting to your router will depend on whether your PC has a wireless connection or not.  If there is no wireless card in your PC, then a cable connection to the broadband router will be the only method of connectivity.  Domestic broadband routers are generally lower performers than commercial routers.  Routers supplied by TalkTalk, BT, Sky etc generally lack the wifi range and the network speed that commercial routers offer.  To improve the performance of your broadband service, you can either change your router for a better quality router, add a Wireless Access Point (WAP), or do both.
Domestic broadband services also have a couple of other potential issues; they have a dynamic IP address and they block some remote access connections.  A dynamic IP address causes a problem if you have corporate services that whitelist an IP address to allow a connection.  Some VoIP services, accounts and banking services do this.  Broadband providers such as TalkTalk block remote access connections from providers such as LogMeIn, TeamViewer and Splashtop. If your domestic broadband service is on a limited data tariff, this could result in higher costs due to the increased use of your service.  It may be worth increasing the data tariff during this period rather than paying penalties for exceeding the data tariff amount.
One way of getting around some of these issues is to use a mobile sim broadband connection.  A router with a sim slot and mobile tariff such as our eSim will provide a corporate level broadband service with a fixed IP.  The business will pay for the data use, rather than you and the router can be located anywhere in the house.
This list is by no means exhaustive but should provide some ideas on how to work from home.  In a short space of time, some have had to uproot an entire business and disperse it to different homes.  Instead of dealing with one building containing several people, the new reality is dealing with several buildings and several people.  This means different levels of connectivity on different computers with many variables. Although challenging, in most cases the fix is quick and easy. If you need any help or advice, please get in touch.


| Home working checklist | |
| --- | --- |
| Comfortable chair | |
| Fast broadband router | |
| Fast wireless access | |
| Headset with noise cancelling | |
| IPS monitor < 24" | |
| Laser printer | |
| Mobile protection | |
| PC protection | |
| Remote support | |
| Suitable broadband tarriff | |
Working from home for employers
The biggest challenge with the enforced lock down has been the speed at which businesses have had to move from office work to home work.  In the office environment, you have significantly more control.  The Internet connectivity for each user is controlled, the PC protection, the phone connectivity, the file access and pretty much everything else is under your control. With the sudden lurch to home working, this is all out of the window.
Remote support has never been more crucial than now.  Make sure that each of your employees are support and productive.  You want to avoid periods of no productivity because they are either trying to fix technical issues or they are offline.  Get the help you need when you need it by having an IT expert on hand to provide the necessary assistance when it is required.
Communication is key in keeping the business flowing and making sure each member or staff is productive.  A VoIP call system means that you can instantly redirect calls as needed.  Users should be able to take their deskphone home, connect it to their broadband router and be able to operate in the same way that they did in the office.  From your administrator console, you should be able to see which employees are connected and online.  The call logs will show calls are being answered and which users(s) are active on the phone. Our 3CX VoIP platform also has a mobile app that allows users to take/make calls from either their mobile phone, desk phone or computer.
3CX also has a chat facility which makes it easy for employees to communicate with each other. Zimbra business email web interface also has a chat facility called Zimbra Connect.  Our cloud based secure business email system allows users to access their email system via Exchange, IMAP, POP and web mail in a safe and secure way.  With collaboration at the heart of the system, colleagues can share calendars, contacts, task lists, email folders and files.  Zimbra drive provides the facility to upload files, and then access on another device to either amend on the fly or download.
Having access to files and data has proven to be a big challenge for a lot of organisations.  Onsite servers with VPN connections is difficult because the speed of the connection is usually very slow. Moving company data to a Cloud hosted server will make access much quicker and remove the need for a VPN.  All users need is a mapped drive on their PC (either in the office or at home) and they can open documents, save documents and create documents as they would on a local hard drive. The data centre connection is much quicker than the office broadband and the professionally configured firewall in the data centre makes it more secure. Having business documents saved to the central hosted cloud server means that the business retains control and access to the data rather than it being stored on a users local hard drive.
PC Protection for users is important if their devices are accessing company data.  If an employee accesses company data via a VPN on their own PC with inadequate or no protection (including firewall, antivirus, antimalware and Windows updates) and their computer is infected with ransomware, all of the company data can be encrypted and inaccessible.  It is essential at the very outset to understand what devices are connecting to your organisations equipment and the level of security on each device.
Mobile phones also need protection.  This is especially true in a 'Bring Your Own Device' (BYOD) environment.  Mobile phones are the biggest target for phishing scams so they need to have a level of protection that prevent hackers gaining access to your data. Our mobile protection software checks all applications installed on a users device and prevents unsafe connections.
| Remote working checklist | |
| --- | --- |
| Remote support for employees | |
| Cloud phone system | |
| Cloud email system | |
| Cloud server/data store | |
| Computer & mobile protection | |
| Chat/text facility | |