Unity Mobile extends the call control, visual voicemail, service configuration, Busy Lamp Field, directory integration and IM&P capabilities of Unity Client to the mobile phone, allowing you to take your business identity with you.
The underlying cellular number is completely masked when both making and receiving calls, providing a total "one number" solution.
Unity leverages BroadWorks Anywhere functionality with the native dialler on the mobile device, greatly enhancing reliability and simplifying support for service providers.
Supported Features:
• Call Control: Hold, transfer, conference, call recording. Both for inbound and outbound calls
• Visual Voicemail: Download, play, delete and view all voicemails
• Contacts: Lookup group/enterprise and personal contacts from BroadWorks, as well as contacts stored on the mobile device.
• Busy Lamp Field: See the phone status of any user in your group or enterprise
• Send SMS and Emails: Use the native apps to send SMS messages and Emails to contacts with a mobile number or email address in their profile.
• Instant Messaging: IM any other Unity user in the group or enterprise, or set your presence status for others to see.
• Service Configuration: Control your VoIP environment directly from Unity Mobile. From activating Do Not Disturb to managing your call center availability and visual voicemail to creating conference calls.
• Dark mode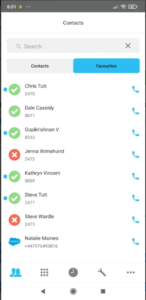 Installing Unity Mobile
On your mobile phone, open the Google Play app
Search for Unity Mobile.  The app is made by Kakapo.  Find the app in the search results and select to install
Once the app is installed, select to open
The first time the app runs, it will ask you for server and ID details. We will have provided these details to you:
Server Address: xsp.insmartcloud.com
Login ID: extn[extension number]@[domain] for example extn110@tst.uk.com
Password: [login password]
Click Login
It will ask if you want to import contacts, select Allow (or Do Not Allow)
Once you are logged in, you will have the option to Save your password – please make sure that you select Save
Select Service will appear next, make sure that the Selected Service is 'Broadworks Anywhere'
Below the Broadworks Anywhere Number your mobile number should be displayed
Choose the Outgoing Call Options 'Use call through' (please read the details about what this does as mobile network charges may apply)
click 'Proceed'
That is the set up complete