If files have not been sync'd, the first item to check is that the CloudSync client is running on your computer. To do this:
On the bottom right of your screen, click the Task View button to show the running applications on your computer
The Cloudsync icon is a small white icon and when you mouse over it, a status message will display
The message should say 'Last Sync was successful.'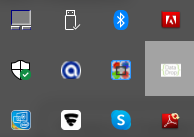 If the icon is not there, either double click the CloudSync icon on your desktop or find it in your list of programs and double click to open it.
The CloudSync control panel will open and will display the status of the file sync.  If there are files to synchronise, the process will start within a couple of minutes and will show the progress of files being uploaded/downloaded.
To see which files have been sync'd, select the Activity tab.  The page will display a list of files with other information including, the Time and date that the file was sync'd, the File name, the Folder, whether the Action was to upload or download the file and the Size of the file that has been sync'd.